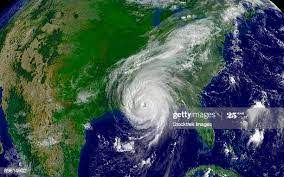 June through November, the Atlantic and Gulf of Mexico coastal experience more hurricanes, tropical cyclones or severe tropical storms.  These natural disasters can cause significant damage to areas along the coast and those several hundred miles inland. Stemming from hurricanes, other disasters, such as tornadoes, floods, landslides or mudslides, can cause additional damage. You can be better prepared with the following safety advisory for hurricane season.
Before the Storm
While nothing can done to prevent a hurricane from making landfall, there are a number of steps leaders can take to prepare for the hurricane's arrival. These steps include:
Office Tasks
Insurance –Check with your insurance agent to make sure you have the coverage needed for hurricane damage.
Inventory and Data Back-Up- Maintain a written inventory, together with photos and/or video, of all the contents of your organization. This will assist in the insurance claim should your facility be damaged or destroyed in a storm.  Keep a copy of the inventory, photos, and video in a secure, off-site location. Ensure that important electronic data and vital paper records (such as property deeds) are backed up and copies stored off-site as well.
Emergency Contact Information – Compile a list of important phone numbers, such as staff, key leaders or volunteers and maintain a copy of this list at a secure, off-site location. Include your insurance agent, significant contractors and local utility companies on the list, as well as local police, fire and hospitals.
Outdoor Preparation
Windows – Facilities with stained-glass windows need additional protection, as the cost to replace them is more significant. Though plywood is often recommended, a framed cover made of plywood (at least ¾ inch thick) or a manufactured hurricane shutter offers better protection from breakage or other damage. The key to protection is having the window cover adequately fastened down with screws, washers and anchors. Taping windows is not recommended. All covers should be pre-fitted, drilled and properly marked as to where they are to be used.
Doors – Doors should be made of solid wood or hollow metal and have at least three heavy-duty hinges with a dead bolt security lock. The door framing should be securely anchored to the wall structure. Head or foot bolts on the inactive door of double-entry doors can add additional protection.
Roofs – All roofs should be in good repair. Old framing and roofing materials will often succumb to the high winds and rain associated with a hurricane. For shingled roofs, make sure that shingles are properly secured to the roof especially along the edge of the roof perimeter. All roof openings, such as vents, should be sealed. Further, the use of hurricane straps or clips will give much greater protection. They can be retrofitted from the attic or when the roofing is replaced.
Gutters and Downspouts – Ensure gutters and downspouts are cleared of leaves, twigs, and other material that could clog them and prevent water from draining away from the building.
Secure anything that can blow away or cause damage to your building. This includes all outdoor furniture, signage, canopies, and playground equipment. It also includes having trees with dead or dying limbs removed. Keep tree branches trimmed away from the building and bushes also should be kept trimmed.
Indoor Preparation
Secure valuable contents, such as relics, fine arts, and audio-visual equipment. Make sure that any openings (windows or doors) to rooms have been storm-proofed to the extent possible. Like homeowners, leaders should have the necessary equipment on hand to weather the storm.
During the Storm
Evacuation – Certainly, when authorities say to evacuate, you should do so. Have maps and an evacuation route pre-planned. Let others know where you will be staying and how they can contact you.
Stay Informed – Keep abreast of storm-related developments by staying tuned to local newscasts or an NOAA weather radio.
Stay Safe – Do not venture out into the storm, even to check on the facility, until local authorities indicate that it is safe to do so.
After the Storm
Travel with Care – Use caution while driving through storm-damaged areas. Be extra vigilant for downed tree limbs, branches, power lines, and debris in the roadway. Also, do not drive through standing water.
Inspect with Care – When you arrive at the property, start by inspecting the outside of the building. Look carefully for dangers, such as structural damage, unsecured or downed power lines, standing water, and broken windows or pipes. If you have any doubts about safety, have the building inspected by a qualified building inspector or structural engineer before entering. Do not enter if you smell gas, observe any downed power lines, or if floodwaters remain around the building. If it is safe to enter the building, do so cautiously. Use flashlights for lighting, not candles. Do not attempt to re-start electrical or mechanical systems without consulting with a qualified contractor. Information on the restoration process is available from HSB.
Claims – Report building damage to your insurance company. Take photographs of the damage. You may need to make temporary repairs, such as covering a broken window to prevent further damage from the weather. Make sure to retain receipts for any such temporary repairs and turn them into your insurance company.
We thank GuideOne Insurance for this information.