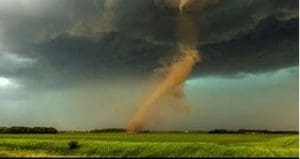 Are you prepared for Tornado Season?  Tornadoes can cause serious destruction in just a matter of seconds. It is essential that your home or organization is ready to handle a storm or tornado, particularly when there are people in your home or buildings when tornado strikes.
5 Ways to Prepare for a Tornado Season
1. For Tornado Season and any serious weather condition, it is a smart idea to allocate a security and safety team.  You and your team should develop a response plan for serious weather conditions and educate any volunteers or staff needed to properly facilitate the response plan.  The plan must contain information on tracking weather reports, your communication process and allocated safe locations in your home or buildings.
2. Tornadoes frequently strike fast and with no or little warning; therefore, it is essential to be ready for a storm attack at any time.  Be aware of varying weather patterns.  Watch for dark, often greenish clouds—a phenomenon caused by hail, a  Wall cloud—an isolated lowering of the base of a thunderstorm and large hail.  Seeing the weather channel on television or listening to radio will allow you to track when tornado conditions are present.  Check your cell phone for weather alerts.   Learn more about cell phone alerts https://www.weather.gov/wrn/wea
3. Have a storm shelter ready at all times and ensure you and your family know where it is.  Be sure your child knows where to go in case of a tornado that happens while they are in school, a baby sitter's house, at a daycare center, etc.   The safest place to be is an underground shelter, basement or safe room.  If no underground shelter or safe room is available, a small, windowless interior room or hallway on the lowest level of a sturdy building is the safest alternative
4. Assess your tornado plan on a frequently and ensure everyone is aware of the protocol. Always have a disaster preparedness kit. Put together canned foods, bottled water, first aid kit, flashlight and other important thing that you could take with you into your tornado shelter. Keep these items in a storage container or a duffel bag, so you can easily get them and if you need them.   Click here for a complete list https://www.ready.gov/kit
5. Protect your property. Many damaged homes become unsafe or no longer provide proper shelter.  Some homes and buildings deteriorate after a storm and become unsafe.  Timely repairs may not be made due to expense. Talk to your home insurance provider and ensure you have the right coverage when your home is harmed by a windstorm or tornado.  Call your agent before storm season.
The best thing about home insurance coverage is that it will help you get back to normal when your home or property is damaged. You will receive resources for the reconstruction of your home.  In case the insurance policy covers the furniture and other belongings inside the house, you will receive a specific amount of money that based on the assessment of the objects.
In most cases, the underwriters will provide you financial assistance to take another home for rent while your home is being restored. Because of this, you must understand terms and conditions of the company who is offering financial assistance.
You must ready yourself, your family and your property for storm damage. To protect your belongings and your most expensive asset, you must consider getting a home insurance policy. There are a lot of insurance providers out there that offer a low premium.  Be sure to check them out!
Resources:
https://www.osha.gov/dts/weather/tornado/index.html
https://www.redcross.org/content/dam/redcross/atg/PDF_s/Preparedness___Disaster_Recovery/Disaster_Preparedness/Tornado/Tornado.pdf