The new year brings our focus to goals and resolutions.  January presents a great time for church leadership to review and assess the safety of their facilities. In this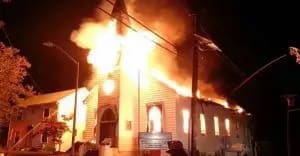 blog we will share an annual inspection checklist, arson prevention measures and electrical hazards to avoid.  Fires, of all types, pose a real threat to your church.  We'd like to share the following fire prevention measures for your church.
Only 31% of fires occur between 9 p.m. and 9 a.m. but account for 65% of property damage.
FIRE PREVENTION CHECKLIST
These safety checklists are part of an annual inspection of church property. The items listed are not meant to imply that other concerns could not be present. The items listed are those that cause the most damage and result in the more frequent and severe claims. https://www.guideone.com/sites/default/files/2021-04/annual_inspection_checklist_2.pdf
ARSON PREVENTION
Churches can be vulnerable to arson because
Buildings are often unoccupied.
Activity schedules are predictable.
Security systems are often lacking.
Arsonists, vandals, and other criminals may target churches because of their beliefs.
REDUCE THE RISK OF ARSON, consider the following precautionary measures:
Building Exterior Checkpoints
Illuminate exterior buildings, doors, and parking lots from sunset to sunrise.
Install motion-activated lighting near doors and windows.
Keep doors and windows locked when the building is unoccupied.
Trim shrubs and tree limbs around windows and doors to eliminate potential hiding places for arsonists and criminals.
Secure ladders and tools in a locked shed/outbuilding or inside the building. If this is not possible, secure ladders outside with a high-quality chain and lock.
Track of and limit the disbursement of building keys. Consider installation of a keyless electronic entry system
Building Interior Checkpoints
Use timers for lights and/or radios during evening hours.
Store flammable liquids in a U.L. listed fire cabinet away from any heat sources, such as space heaters.
Install a central station monitored security/fire detection system. Also consider a fire sprinkler suppression system.
Confirm that smoke and heat detectors are operational.
Confirm that fire extinguishers are in place and have been regularly serviced.
Restrict access to areas containing valuable or combustible materials by locking interior doors.
ELECTRICAL HAZARDS
Many of the most common electrical hazards are easy and affordable to identify, control and correct. However, these hazards can lead to a major fire if left unchecked. The following are the most common electrical hazards and how to control them.  Any maintenance or repairs should be performed by a licensed electrician.
Missing Covers on Junction Boxes
Missing covers on junction boxes, switches and outlets expose energized circuits, creating arc flash, shock, and electrocution hazards.
Missing covers provide a path of entry into the interior of the enclosure, allowing dust, dirt, and debris to accumulate.
Covers can also prevent metallic objects to falling into the circuits.  These objects could arc or lodge in a way that presents a hazard.
Broken/Unsupported Light Fixtures
Light fixtures should be permanently mounted to the base and show no signs of damage.
Light fixtures hanging and unsupported by wiring put undue stress on the electrical connections.
Both of the above conditions present the potential for an electrical short, which can produce sparks that can ignite combustibles.
Electrical Panels and Circuit Breakers
All electrical breaker panels should be equipped with an appropriate cover and remain closed.
Missing covers expose the circuits to dust and physical damage.
If an arc or short circuit would occur, the cover will contain the sparks from igniting surrounding combustibles.
The electrical panel should be indexed,

Identifying each individual circuit breaker.
The directory must identify the various receptacles, general area or equipment serviced by each circuit breaker.
Indexing enables quick de-energizing of a circuit under emergency situation
A circuit breaker protects the circuit and equipment when they become overloaded because of too many appliances or equipment.
Circuit breakers also provide protection when a short develops in a wire.
There should not be any missing breakers or other openings between breakers.
Openings allow for the potential for electrocution, physical damage, and dust and dirt to accumulate in the circuits.
Openings should be filled with spare clips.
Do note tape breakers or physically secure in the "ON" position.
If the breaker is not allowed to trip, or cannot be manually tripped, the wiring could overheat, increasing the chances of a fire.
SPACE HEATER SAFETY
Look for heaters that have the Underwriter's Laboratory (UL) label.
Choose a thermostatically controlled space heater because they avoid the energy waste of overheating a room.
Select a heater of the proper size for the room you wish to heat. Do not purchase oversized heaters. Most heaters come with a general sizing table.
Locate the heater on a level surface away from foot traffic.
Keep children away from the heater.
Never leave a space heater unattended.
PORTABLE FIRE EXTINGUISHERS
A portable fire extinguisher can save lives and property by putting out a small fire or controlling it until the fire department arrives.
To be used for those fires in the incipient stage when the fire has just started and is easily extinguishable
Not designed to fight large or spreading fires.
This fact sheet will cover how fire extinguishers are an excellent first line of defense in preventing fires, but are only useful under certain conditions, including the following:
If the appropriate type and size of fire extinguisher is available;
If the operator understands how to use the extinguisher
If the extinguisher is properly located within the building
If the extinguisher is in good condition and fully charged.
We thank Guideone Insurance for this information.
Click here to access their to access their full Fire Safety ebook.
View the full Safe Church Resource Library.