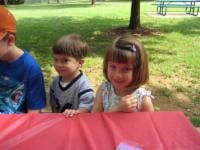 It's almost Vacation Bible School season. We've asked the experts what safety essentials you need to have in place so you can focus on fun and fellowship. Should your church decide to host VBS this summer, here are 5 Key Actions you can take for a safe VBS program.
5 Key Actions for a Safe VBS
Enlist a robust team of staff and volunteers.
Overestimate your attendance -be prepared, with staffing and resources, for 20% more based on current and previous years' registration numbers.
Recruit "floaters" – volunteers who can step in when and where you need them. As needed volunteers are on standby and can fill the gap if another volunteer calls in sick or you need additional help with activities.
Screen all workers and volunteers.
Background Checks deter criminals and sexual predators and provide peace of mind. Most of your volunteers are probably already involved with the church in some capacity, but you still need to protect your children and church from liability.
A thorough check should include at least the following:

Validated Criminal Database
Validated Nationwide Sex Offender
Validated Department of Corrections
Single County Searches
7-year address history
Arrest records search
SSN Verification w/Address History
Government Sanctions (Terrorist Search)
Train all workers and volunteers.
Seasoned church volunteers know that VBS week can be full of surprises. Take charge of empowering staff and volunteers to respond calmly and confidently to crisis situations.  Equip your volunteers with safety skills, responses, and resources in the following areas.
Weather and disaster emergencies
Working with kids who have discipline problems
Abuse warning signs
Ensure First Aid readiness.
Prepare your volunteers to handle illness and common injuries from a scraped knee to anaphylactic shock by using first aid kits, https://www.redcross.org/store/first-aid-supplies, or calling for help.
Encourage VBS program leaders to complete the Red Cross Ready Rating™ Program, https://www.readyrating.org/ – it's a free, confidential assessment of their current readiness level for emergencies. They'll receive immediate, customized feedback that can help them improve their scores.
Request that volunteers download the free American Red Cross First Aid App before VBS starts. It helps users stay calm by offering instant access to expert advice (step-by-step instructions, videos and animations) on how to treat first-aid situations, including allergic reactions, bee stings and choking, until help arrives. To get it, check your phone's app store, text "GETFIRST" to 90999 or visit https://www.redcross.org/get-help/how-to-prepare-for-emergencies/mobile-apps.html
Gather key pieces of information for each child.
This is especially important since you'll likely draw children from the community who do not regularly attend your church.
Information about health needs, medications and allergies, including food allergies, which can be very serious.
A consent form for parents to sign that gives permission for their child(ren) to participate in VBS activities. Consent for emergency medical treatment so that if there is a medical emergency and the parents cannot be reached, appropriate professional medical treatment can be obtained for that child.
A media release form that gives permission for child(ren) to appear in VBS photos or videos that are published on the church's website, bulletins and social media accounts.
Some churches include waiver or release of liability language in their forms.  Laws vary from state to state on whether such waivers regarding a minor's rights will be upheld, so it's a good idea to consult with your local legal advisor about waiver of liability language.   The Christian Law Association is a great resource for churches.  https://www.christianlaw.org/