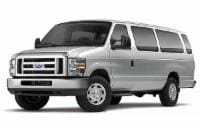 Webb & Associates can guide you in securing a 15 passenger a van insurance policy that provides comprehensive coverage for your ministry. While a 15-passenger van is convenient, it does not necessarily drive like a minivan. Drivers and passengers must use caution to minimize the risks associated with these vehicles. We've also compiled a list of safety tips for your 15 passenger vans.
When driving a 15-passenger van, drivers need to take the following safety precautions:
The Driver should have a valid driving license for the state of residence and in this matter, it is best to have a commercial driving license.
Anyone who drives a 15-passenger van needs to undergo additional training because these vehicles maneuver differently from cars and mini-vans, particularly when they are fully loaded.
In order of priority, best practice requires drivers to have:
A Commercial Driver's License (CDL) OR
Pass a defensive driving course to operate a 15-passenger van. The course must meet the following minimum requirements: Note: Internet-based programs are acceptable.
Four (4) hours of instruction time.
Testing with written results.
Driver certification.
Partial list of nationally recognized programs that meet safety requirements are sponsored by the National Safety Council.
Coaching the Van Driver 4.
Defensive Driving Course 4.
DDC-PC, Online.
Driver[s]
Should be Focused and be well rested.
Never use a handheld phone at the wheel.
Limit conversation with other passengers.
Should not drive more than 8 hours per day.
Keep driving hours between 6:00am and Midnight to reduce risk of fatigue and poor visibility.
Ideally limit trips to 6 hours- sharing the trip with another qualified driver and changing shifts every 2 hours.
Require seatbelts for all passengers.
Disallow use of interior lighting -such as overhead lights and cell phones.
Tires:
Select high quality tires and, for 15-passenger vans, use tires that are rated load range E.
Make sure that tires have adequate tread depth, greater than 1/8 inch.
Before every trip, check your owner's manual or door pillar for correct tire pressures.
The tires should be properly inflated and the tread must never be worn down. Incorrectly inflated or excessively worn tires could result to loss of control over the vehicle and it can lead to a rollover.
Remember that the pressure for back and front tires might be different and the pressure is possibly higher when it comes to a 15-passenger van over what is needed for the car tires.
Be aware that tires can degrade overtime regardless of wear. For this reason, we recommend replacing 15-passenger van tires over five years of age.

Check a tire's age by finding its Tire Identification Number (TIN) on the tire's sidewall. The last four digits of the TIN indicate the week and year the tire was made (e.g., 1010 = March 2010).
For additional information on tire aging, visit https://www.nhtsa.gov/equipment/tires

Know the owner's guide on replacing tires and using your spare, if needed.
Spares: Avoid using some old spares when the worn tires are needed to be replaced.  All tires, even those that are not used weaken as time goes by. Using the old spares can just lead to danger.
Size:
A 15-passenger van is substantially wider and longer than a car and so, it needs more space so you can maneuver it properly.  Aside from that, you will need to be vigilant using the side-view mirrors when changing lanes.
Speed:
You must drive at a good and safe speed limit depending on the driving condition. A driver must never drive this vehicle at a speed rate that exceeds the recommended speed limit. It is important to slow down when the road is icy or wet because this kind of vehicle doesn't respond very well to unforeseen steering maneuvers, and it needs more braking time.
Seat belts:
All the occupants must wear and fasten their seat belts from time to time they travel with a 15-passenger van.
The seat belts should be inspected on a regular basis and replacement should be made for any missing piece, for damaged or broken buckles or belts.
Any unrestrained occupant of a 15-passenger van who had been involved in a single car accident is 4 times more likely to be killed than a restrained passenger.
Occupancy:
Never allow more than 15 people to ride in a 15-passenger van.
Fill the seats from front to back: when the van is not full, passengers should sit in seats that are in front of the rear axle.
Cargo:
Cargo should be placed forward of the rear axle; avoid overloading the van or placing any loads on the roof.
See the vehicle owner's manual for maximum weight of passengers and cargo and to determine towing capability.
See this link Quick Fact Sheet on Safety Tips for 15-Passenger Vans from the National Highway Traffic Safety Administration
https://www.nhtsa.gov/sites/nhtsa.gov/files/documents/13699_15-passenger_van_factsheet_english_060418_v3a_tag.pdf